News Archive: 2021 • 2020 • 2019 • 2018 • 2017 • 2016 • 2015 • 2014 • 2013 • 2012 • 2011 • 2010 • 2009 • 2008 • 2007 • 2006 • 2005 • 2004 • 2003
People often ask me, "Max, why don't you stop writing novels and just work on NationStates full-time?" And I'm like, "Uh, that's kind of offensive. Writing novels is my passion. It's what I love to do." But by then they've wandered off because they don't really care unless there's a web game.
But guess what? This time, there's a web game!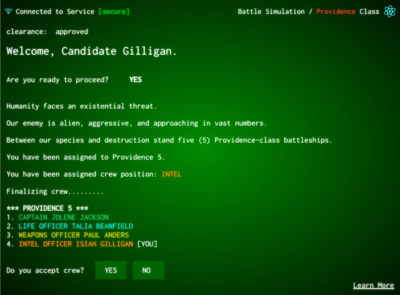 It's no NationStates. I'll be honest. But you might find it a fun diversion during these turbulent times.
There's also a book. You might have heard of Providence from the ads on this site. It's about four people on a spaceship who are trillions of miles from home and have to fight aliens who spit black holes.
"★★★★★ Extremely smart... This is Barry's masterstroke... page-turning anticipation which pays off beautifully." —SFX
"Brain-bending adventure" —Newsweek
"★★★★★ Easily the first, best book to beat this year" —Bradley Horner's Book Reviews
"A light-hearted thriller with a superb dark, existential sting in its tail." —The Sunday Times (UK)
OUT NOW
Learn More • Buy Now • Reviews
If you're looking for a good book, or a way to support authors who make satiric web games in their spare time, give it a look! Thank you.