NUCLEAR CONTROL
Faction: Friend United Crafting and Knapping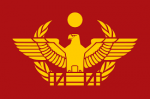 Valabui
Military Specialist
Production

Valabui has 38 Production available. It is a Military Specialist, which means it convert Production to Nukes more efficiently than other nations.
Production rate reduced by 45% Radiation.
Production accumulates automatically over time, up to a cap of 50 for Military, Strategic, and Intel specialists and 200 for Economic Specialists.